BRIDGESTONE Taking on the World
Bridgestone & Suzuka 8 Hours
13 Years of a Very Special Race
A Bridgestone cap has been on the head of every winner of the past 12 Suzuka 8 Hours races since 2006.
The hard work Bridgestone puts in behind the scenes is surely what makes this now common scene a possibility.

Every year it's the same incredible feeling.

Coming through the gates that lead to Suzuka Circuit, one is moved by the massive grandstands and the high-pitched exhaust notes of motorcycles coming down the main straight.

The Suzuka 8 Hours season has come again this year - a reminder of how quickly a year can pass. Pre-event tests are going on right now, but even at this stage the usual 8 Hours fever has already taken hold.

The Suzuka 8 Hours is often compared to a midsummer festival. A large number of motorcycle and racing fans descend on Suzuka Circuit during the last week of July, when the summer heat is severe. There, they spend eight full hours enjoying the on-track action.

The higher ranked teams are all trying to win. For motorcycle manufacturers, this is an all-out battle for prestige and superiority. Especially for the Japanese manufacturers, there is a special meaning to winning at Japan's most important motorcycle race. A win at the 8 Hours resonates around the world.

For the teams further down the rankings there are other objectives, such as finishing the entire race, completing more laps than the previous year, or simply enjoying the race in general.

The hopes, desires and dreams of everyone involved come together to form a wave of passion and excitement, which is what creates the special feeling at Suzuka every year. It has become something more than a race; it is a major motorsports event. This is exactly why it can be considered a midsummer festival.



Steady, even and consistent.
These are the qualities of a tire that can win the Suzuka 8 Hours.
Bridgestone has a big goal: to achieve a run of 13 consecutive 8 Hours wins stretching back to 2006.

But it won't be easy. Coming in with the idea of, "We won last year, so we can win again this year" is not enough to win at the 8 Hours. This is a special race. Though the 8 Hours is labeled an endurance race, the entire eight hours from start to finish is run at an extremely high pace. From 11:30 a.m. until 7:30 p.m. the riders and teams brave tough summer conditions that include extremely high track surface temperatures, always pushing for fast lap times. The Suzuka 8 Hours is truly the world's only sprint-style endurance race.

Last year the Yamaha Factory Racing Team took a third consecutive win on 16.5-inch tires, but this year all the teams will be riding with 17-inch tires. For a package as fully developed as the Yamaha, 0.5 inches can be a huge change.

However, Bridgestone has been steadily developing tires, with the end result being Yamaha Factory Racing Team's Katsuyuki Nakasuga using the new 17-inch tires to improve the lap record he set on 16.5-inch tires last year. Progress has been made not only with the tires, but also with the team, machine and the rider himself.
Masatoshi Matsunaga is the engineer in charge of Bridgestone's race tire development. He shared his view of the 8 Hours. "Although the 8 Hours is the final race of the EWC (Endurance World Championship) season, this is a very special and unique race."

EWC races are both complicated and strategic. For example, teams may decide to forego a full tank of fuel at the start in order to gain a better position in the opening laps.

In races like the Le Mans 24 Hours, teams use two or three different types of tires. There, it gets cold enough at night to give riders a chill, while during the day the track surface temperature can reach up to 45°C. The key point becomes what type of tire to change to and when.

Matsunaga gives some insight. "When there are crashes, or when the safety car comes out, teams have to think about things like the timing of when to re-fuel, and in a lot of cases they have to adjust their plans to match what is happening at that moment. Team managers' decisions have a huge impact on the end result of races. That's how EWC works."



The kind of tires needed in EWC in Europe and at Suzuka are very different
In comparison, the Suzuka 8 Hours is a bit simpler. "From 11:30 a.m. to 7:30 p.m., both the air temperature and the track temperature just stay hot. That's the 8 Hours for you," Matsunaga says with a laugh. "That means that we only really use one type of tire for the race. To win the 8 Hours these days, the strategy used is to make seven pit stops and run eight stints in total. Fuel consumption is carefully calculated to make sure there is enough fuel for each stint. Basically, the teams that win are the teams that can do everything according to plan. It's a very difficult task."

The most important trait in tires used for EWC racing is flexibility. The tires need to be easy to use, able to handle a wide range of temperatures. As several EWC races are held on circuits with low-grip track surfaces, tires with a mild character are preferred. However, for the 8 Hours a more specific window of performance is required. Generally, the grip levels are much higher than at other EWC events, and maximizing stability is also important."

From year to year, the conditions at the Suzuka 8 Hours are almost the same. There can be unexpected variables such as rain, but for the most part the air temperature and race pace at this high-grip circuit change very little.

Putting together a race program based on data from past years' races is common, so the tires need to offer easy-to-predict, stable performance.

In addition, electronic traction control systems also need stability from the tires. These kinds of systems do not work well with unstable factors.

For example, if tire grip level is very different in the opening stint versus at the end of the race, the traction control system could end up working too much, or not enough. Overly large changes to the tire's circumference due to wear can also be problematic.

"More than tires with the highest peak grip, tires that can perform evenly are more important for winning at the 8 Hours," Matsunaga explains.

"Actually, the more grip the tire offers, the higher the risk. The issue is what happens when that grip level starts to come down." Put another way, tires that can maintain a consistently high pace are better than tires that allow really fast one-off lap times. "Back when traction control systems weren't as commonplace as they are now, a win or loss could be decided on how the tires were made. Choosing whether to go the route of using very hard tires that would last for a long time, or tires whose performance doesn't drop off could be the key to taking the win.

"But these days tires are designed not to trip up the electronics. Both the grip level and the circumference should remain as consistent as possible. Essentially we're aiming for a tire that doesn't change." To produce tires like that, repeated technical trial and error are essential. Simply increasing grip by changing the rubber compounds is not enough. Achieving a stable tire that changes little was made possible by a continuous and thorough revision of the tire's construction and shape. Bridgestone's 12 back-to-back wins at the 8 Hours are the fruit of that labor.

Matsunaga was interviewed for this article in the middle of the 8 Hours pre-event test. To us, the grateful interviewers, he said, "I can take some time out, as long as we aren't having any major issues." After that things proceeded smoothly, with the interview going ahead right on schedule.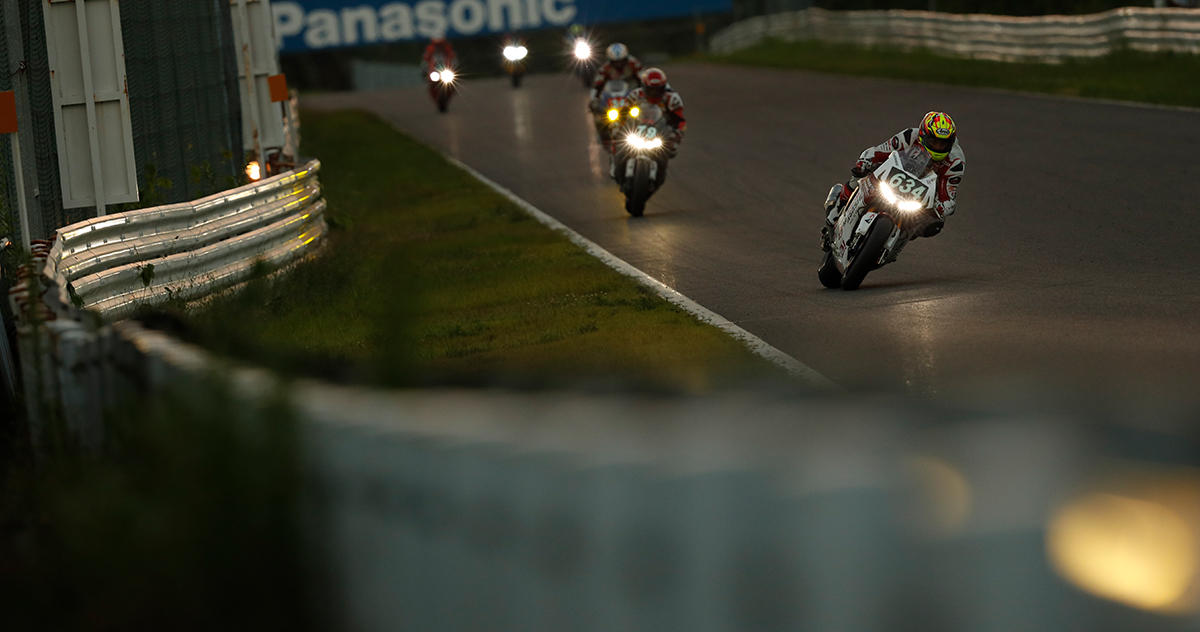 And that is just like the 8 Hours itself. The fine details of the race have been put together over a number of years, and with a fast pace being the requirement, even the smallest mistakes cannot be tolerated. Riders need to maintain a quick pace as they work to avoid back markers (riders being lapped) but still ride according to the team plan, and to repeat this for a very long time. This is the only path to the top step of the podium. "A scorching-hot battle" is how the 8 Hours is often described, but hot is exactly what the team and riders cannot let themselves become during the race. Of course, the same goes for tire manufacturers like Bridgestone.

Matsunaga explains that "For us at Bridgestone, winning is the ultimate goal," but there is another point of view.

"I want to provide each team with stable tires, and support them in realizing the kind of race they want to run."

Matsunaga used to race himself and loves racing from the bottom of his heart, which is why he would say something like this. Bridgestone will supply 31 teams with tires at this year's Suzuka 8 Hours, and Matsunaga hopes that each one can run a good race right until the end.

Rather than being overly occupied with securing a win for themselves, part of the essence of Bridgestone is to calmly work on getting to know and developing a relationship with each team. Even considering just the top teams, each one has their own way of thinking and their own approach to machine development.
From the viewpoint of a tire development engineer, Yamaha, Suzuki and Kawasaki share a similar tendency in their tire needs, while only Honda is different. "Yamaha, Suzuki and Kawasaki are all looking for a more flexible rear tire, but Honda wants a firmer one."

"Basically, every team is testing all of these tires, so if Honda decides they would like to try a rear tire similar to Yamaha's, Bridgestone can provide it. The interesting part is that although some teams may think about trying out the top teams' tires, none actually do. In the end, each team has their own way of doing things, and their own design for electronic traction control. There is a tire that will suit them perfectly.

What's really more important in our job is having discussions with each team. While talking to each other we try to find out what kind of race the team wants to run, so that we can provide the best tire to do that."

As a tire manufacturer, there is certainly a sense of wanting to add to a successive string of wins. But more than that, Matsunaga's top priority is granting each team's wishes. "We see ourselves as being somewhat behind the scenes," Matsunaga says with a laugh. With Bridgestone continuing to be as strong and as dominant as they have been at the 8 Hours, it is true that the focus is not so much on the tires.

But at the same time, Matsunaga lets a bit of pride slip through with the comment, "You know, the only part of the bike actually touching the ground are the tires."

Describing what it means to have a good balance with electronic traction control, Matsunaga talks about how lap times were greatly improved when they developed a tire that did not cause the traction control to cut in too much.

Whether there is a lot or a little traction control, its basic function is to cut engine power. Reducing the need for traction control to cut in--which basically means to have a tire that provides just the right amount of spin rate--leads to faster lap times.

Also, when they feel the traction control working, riders tend to go full-throttle, which hurts fuel consumption.

Essentially a flat, even performance is required for an 8-Hour-winnning tire. Whereas normally the most obvious indicator for tire performance is pure peak grip level, in endurance racing it is all about the tire's consistency. That, and the tire manufacturer's "behind the scenes" attitude give a less than glamorous impression.

But in the end, tires are the key to victory. Without a winning tire, it's impossible to win at the 8 Hours, and without putting in consistent hard work it's impossible to produce outstanding tires.

Bridgestone tires use the JSB1000 championship as a major testing and developing ground, carrying out their work in a straightforward way over the course of a year. They are constantly moving forward, pushing to help manufacturers, teams and riders achieve their goals.

On July 29, just a little after 7:30 p.m. fireworks will be set off at Suzuka Circuit to celebrate the teams who put it all on the line to win the 8 Hours. The riders standing on the top step of the podium will be wearing their red Bridgestone winners' caps proudly, as the cheers go up from the stands.

The same scene that has played out on the podium every year since 2006 will surely play out again this year. As long as nothing major happens of course.

Beautiful fireworks and red Bridgestone caps will complement the Suzuka Circuit celebrations, making it feel like a real midsummer festival.
(Source:RIDERS CLUB September 2018)