BRIDGESTONE Taking on the World
BRIDGESTONE × TSR World Challenge Journey
F.C.C. TSR Honda France took a stunning victory
on Bridgestone tires at the Le Mans 24 Hour race.
The story leading up this memorable first EWC race win
for a Japanese team, using Japanese tires, outside Japan spans a generation.
Like interactions between people, interactions between companies often lead to special relationships. Some are passionate, some calm and sober, and some are powerful.

From the beginning the relationship between TSR and Bridgestone was explosive and dynamic and led them both to the pinnacle of world championship road racing.
TSR, the top Japanese private contender in the sport, is based in Suzuka, a city in Mie, Japan well-known for motorsport. The owner and highly respected team leader, Masakazu Fujii, is known as a fighter who never gives up. He is a serious contender. He comments laughingly that it is nice to see such a small team like his beat the factory teams.

TSR's collaboration with Bridgestone started back in 1988. Of course, there were many ups and downs. At that time, Bridgestone had only just started motorcycle racing, and, still lacking experience, was not able to satisfy Fujii. "If the tires matched the conditions, they were fantastic; if not, they were a disaster. The tires only had pin-point performance," Fujii explained.

Even so, TSR decided to use Bridgestone after being persuaded by Bridgestone engineers. Fujii half joked that it was Bridgestone taking him out for drinks that eventually cemented the relationship. Fujii continued, "Bridgestone tires did not quite have the performance to match their competitors, but their engineers were enthusiastic, passionate and willing. That is why I decided to partner with Bridgestone."

Three years later, TSR rider Noboru Ueda claimed a dramatic victory from pole position in the 125cc class at the 1991 Japan GP, his debut Grand Prix race. For Ueda, it was a result far beyond his expectations. And he did it on Bridgestone tires. "I had been planning to win at Suzuka. I poured all my energies into winning there," recalls Fujii. In the same class were riders like Fausto Gresini and Loris Capirossi riding full factory bikes. To be able to brush them aside and take the win was simply astonishing.


Such a stunning victory naturally caught the attention of the world, and Fujii was asked join the series full-time by the GP organizer. When Fujii heard the offer, his immediate answer was, "Yes." He had absolutely no plans or preparation in place to make a world Grand Prix debut, but he did not hesitate in making his decision. "I thought, 'We just have to go for it.' Our organization is really small, so we were able to make the decision without much fuss."

Following the race at Suzuka on March 24, the team only had a week to gather any tires they could find and jump on a plane bound for the next race in Australia. There, Ueda scored an astonishing 3rd place finish.
An impulsive decision that led to an amazing result
At the time, Bridgestone was in the same position as Fujii. They had no plans at all to take part in World GP racing full time. Nevertheless, as Bridgestone-shod TSR had made the snap decision to take on the challenge, there was no choice but to go along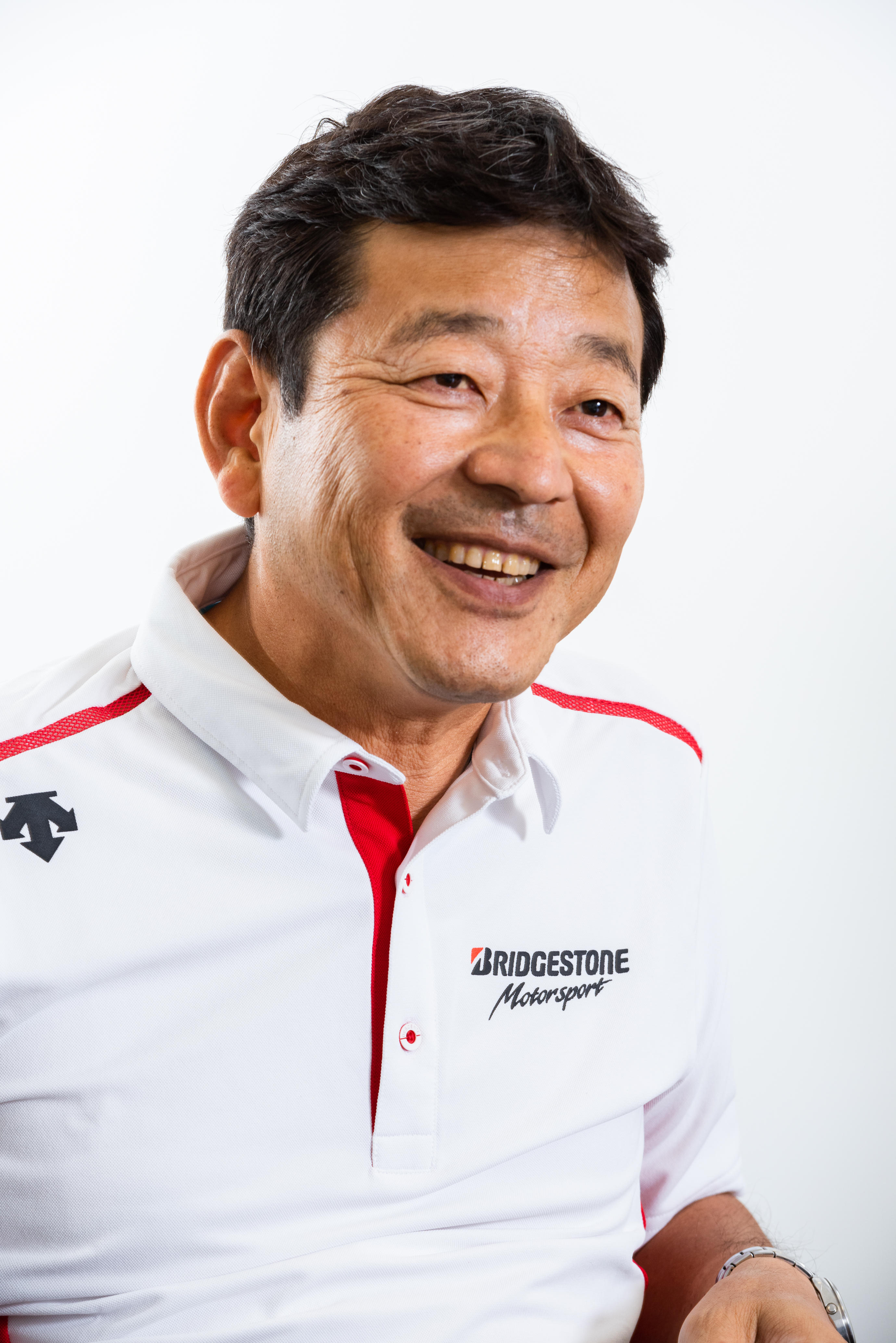 Hiroshi Yamada had been working as a Bridgestone engineer since 1990, focusing on the All Japan Road Race 250cc class. He remembers the time with a smile. "There was nothing we could do, really. It was such a sudden decision that we couldn't even go to Australia with the team. We were finally able to go to Round 3 in Spain, but for me it was my first ever trip to Europe, so there were so many things I didn't know. We rented a van in Germany and stuffed it with tires, then we somehow made it in time for the GP. It was really hectic."

This abrupt start opened the door for Bridgestone to step out onto the world stage of motorcycle racing. And from this point they went on to gain experience step by step.

Bridgestone's challenge in GP racing's premier class began in 2002. Until then, their only experience had been with small to medium displacement machines, and so they faced a certain amount of difficulty.

However, the desire to win at the world's highest level of road racing grew strongly within Bridgestone. Research and development continued steadily as the engineers worked tirelessly to overcome obstacles.

In 2007 Bridgestone finally took its first title in the MotoGP class, with Casey Stoner at the helm. Following that milestone, many MotoGP riders began saying that they could not win without Bridgestone tires. This trend began to affect the teams' organizations and strategies. That was how highly the performance of Bridgestone tires was regarded.

The following year, Valentino Rossi became champion, giving Bridgestone successive titles. 2009 was the start of Bridgestone supplying spec tires for the entire MotoGP class. That meant that there were no rivals to compete against, but even so their motivation remained high, and they never stopped developing the tires. "We invested more money, people, equipment, and - most importantly - passion into it. We re-examined our tire development program from the ground up, and revised our entire production structure. If we hadn't taken those measures, we wouldn't have been able to manage being sole tire supplier in the premier class of motorcycle racing."

Bridgestone put their best effort into complying with all requirements and cleared each at a very high level, making Bridgestone a supreme brand as MotoGP's official tire supplier.

Being the official tire supplier contributed greatly to Bridgestone's global branding and marketing. It also led to improved performance of their tires for production models. The simple "Want to join?", "Yes" exchange that brought TSR into Grand Prix racing resulted in huge progress for Bridgestone's motorcycle tire development.


Racing is a series of challenges. It puts people and technology under constant pressure, but at the same time it trains, educates and develops talent. Having gained enormous resources through their experience in Grand Prix racing, Bridgestone withdrew from MotoGP in 2015. Now the issue was to find another challenge that would let them continue making forward progress. "Mr. Fujii, any interest in the 24 Hours of Le Mans?"

In 2016, this time it was Bridgestone who contacted TSR. "What in the world are you talking about?" was Fujii's initial reaction, quickly followed by, "Sure, we'll race," as he made another snap decision.

TSR had already won the Suzuka 8 Hours, but Fujii was looking for an even bigger, more demanding stage to conquer.

He had always dreamed of racing in the Le Mans 24 Hours. He had discussed the possibility with his colleagues for more than 30 years, telling them that he really wanted to compete.

And in the end, it came about with nothing more than a brief, "Want to race?", "Sure." Between Bridgestone and TSR, a firm coordination and mutual understanding was already in place; the kind that is only possible between professionals who have fought together at the highest level.

Preparations were made in haste, just as they had been with the entry to World GP in 1991. Nevertheless, TSR finished the race in 3rd. And just as in 1991, it was a fantastic result. "We can do this, can't we?" After the team's podium finish at Le Mans, Fujii set his sights on an even more immense challenge: the Endurance World Championship (EWC) title, making the decision to contest a full season in the championship the following season.



The EWC, which includes the Le Mans 24 Hour race, was a new challenge for Bridgestone. Yamada explains: "A sprint race takes place over a very limited range of track temperatures. However, in EWC, and especially in 24 hour races, the range of track temperatures in a single race can vary greatly. For example, at Le Mans, the track temperature drops down from a daytime temperature of 30ºC to 3ºC between nighttime and dawn. To battle at racing speed under those conditions was unbelievably hard on the tires."

But Bridgestone already had an abundance of experience and technological resources in place. Needing to find a tire that would work over a wide range of temperatures, they drew on their vast expertise with street tires. Tire performance improved through EWC competition, and the experience and data gained from racing was put back into street tires, creating a positive cycle of development.

In only their second year of EWC competition, TSR has been sweeping through the 2017-2018 season like a whirlwind. At the Le Mans 24 Hours, they took the first ever victory for a Japanese team, hoisting the Japanese flag to the top of the podium

"Fighting Leader" Fujii shed tears of joy. The tears weren't only for himself. "The more people involved, the happier I am. Our win at Le Mans was, honestly, just pure bliss. There's really no better feeling."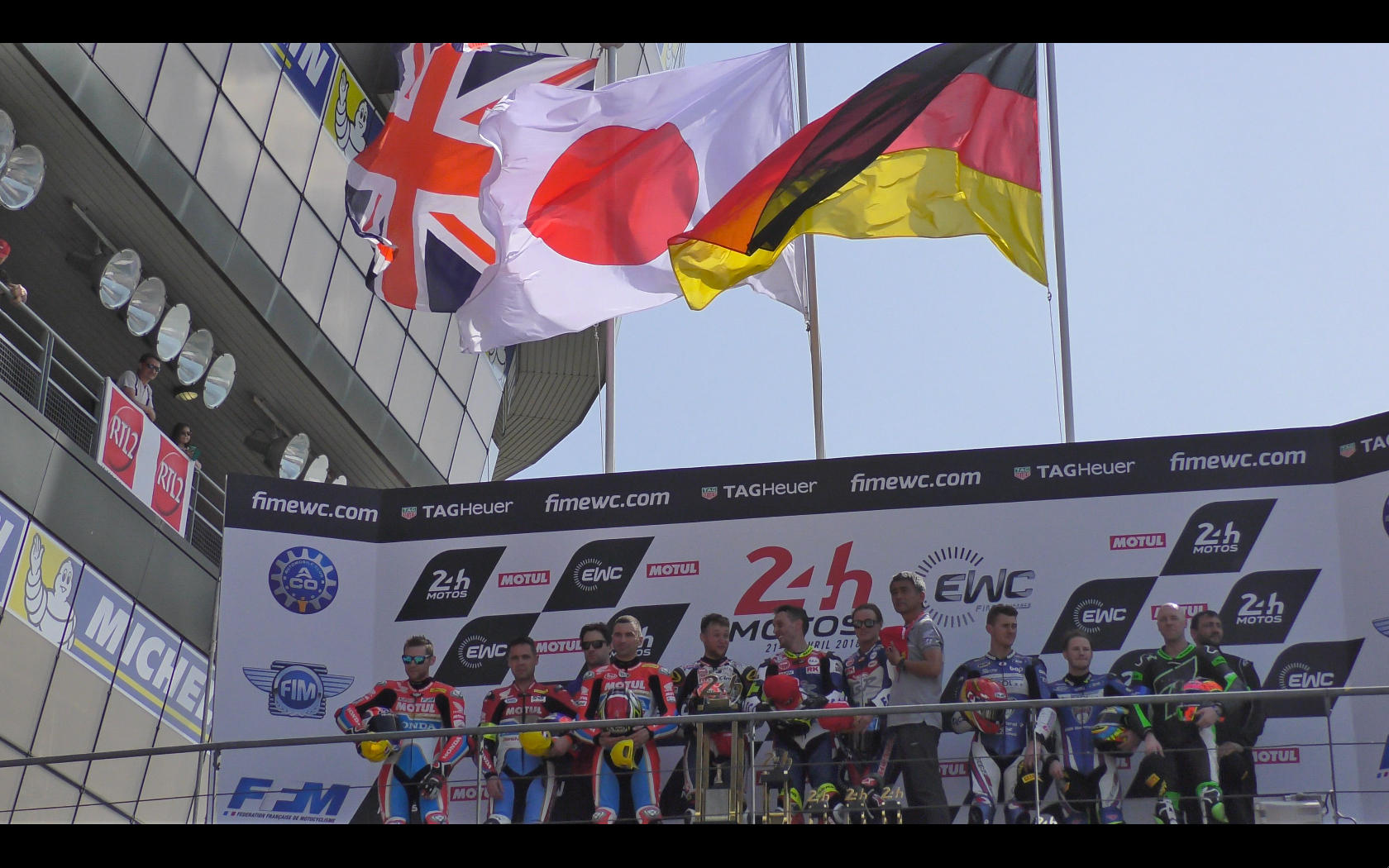 "We'll take the world title."
A statement without a single shred of doubt
TSR, riding on a positive wave currently leads the EWC championship standings.

If they can keep their rivals at bay in the final round, the Suzuka 8 Hours, it would be the first EWC championship title for TSR, and for a Japanese team.
With the Suzuka 8 Hours soon at hand, Fujii simply says, "Yeah, we're gonna win. I mean, we race to win. It's only natural."

A smile breaks out on Fujii's face as he jokes, but the glint in his eyes is sharp, intense. "The podium at the Suzuka 8 Hours is special, after all. There are so many fans there. When I talk to them, I get an immense reaction. It's great! I feel like saying 'Everybody come back to my house for the after-party!'" he says with a laugh.
Fujii, who brought many people with him when he stepped out onto the world stage, could be considered the man responsible for making Bridgestone a global brand. Modest, the man himself doesn't give it much thought; his desires are simpler: fully commit to the race, win, then laugh and pat his friends on the back. That's all.

Now, TSR, who originally brought Bridgestone to the attention of the world, is on the verge of winning a world title with Bridgestone as its partner.

On July 29th, 2018, at 7:30 p.m., after they've finished the race, there will surely be bright, beaming smiles in the TSR pit garage, along with a few tears as well.